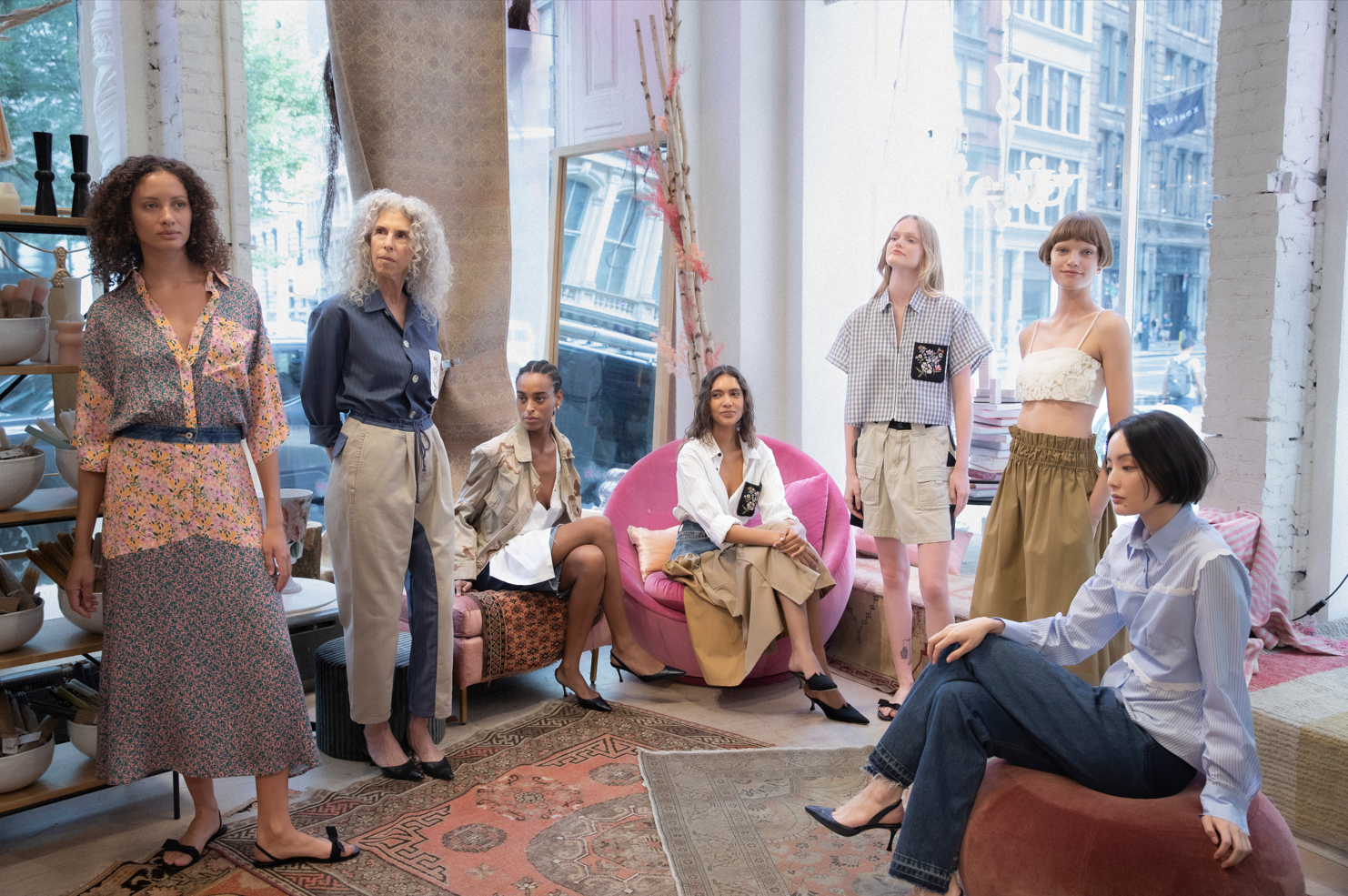 Skin By Pretti5 for Rentrayage #NYFW Presentation - Bringing Together Beauty, Lifestyle and Sustainability
Beauty, fashion and home are inseparable pillars of our lifestyle, inspiring trends and habits that go hand-in-hand. As a skincare brand, our mission is to provide solutions that bring balance to our skin but beyond that, also to our lives. Tapping into a conversation that merges styles, environments and ways of living together felt the most natural to us, and is why we chose to collaborate with Rentrayage, the sustainability focused NYC-based brand. As their exclusive skincare provider for their presentation, we introduced our clean & vegan product lineup backstage which felt like a perfect alignment on multiple ends.
Sustainable Living: Fashion, Home and Beauty
Rentrayage is a sustainable lifestyle company designing luxury fashion and homewares out of existing, recycled and regenerative materials. "Beyond stitching things back together, they're laying the groundwork for a new way of thinking about production and consumption. In an increasingly eco-minded marketplace, they are designing a way to live both sustainably and beautifully." 
We wish to hear sustainability and beauty mentioned together in the same sentence as often as possible! They are core to who we are and necessary to who we want to become. Partnering with Rentrayage, a brand that has been dedicated to sustainable practices on such nuanced and complex scales was truly inspirational for us. We learned about their sourcing and upcycling methods which are at the core of their collections, both fashion and homeware, including their latest collaboration with  ABC Carpet & Home.
As one of the oldest homeware stores of Manhattan, ABC Carpet & Home provided a magical set up for the presentation, filled with pretty pink flowered dining tables, soft couches and bright windows looking at the corner of Flatiron Building in NYC. We could all feel a harmonious and perfectly synchronised energy celebrating the traditional and the new, as well as sustainable alternatives, which to us once again prooved that balance in life can be achieved through connectivity and bringing together the best of all worlds.
Backstage at NYFW: the 5-step Skin Prep
6 am, 888 Broadway, New York. Backstage.
Excitement was in the air among the 7 models who arrived at ABC Carpet & Home bare faced. First, they took a seat, waiting for our Pretti5 skin professional April Anguiano to skin prep them before going in for hair and makeup. 
The beauty look for the presentation was defined as 'natural' and 'minimal' which offered us the opportunity to highlight the best features of each models' skin quite easily. 
The Pretti5 solutions are best at being risk-free for sensitive skin as well, thanks to the holistic benefits of Traditional Chinese Medicine which we infuse into our products. Therefore, we were able to test a 5-step Skin Prep on each and every model safely, regardless of their skin type, using our Toning Essence, Brightening Serum, Miracle Glow Facial Oil, Moisturizer and Night Cream for extra hydration. The girls also received a relaxing facial massage with our Butterfly Gua Sha. The result was a natural, radiant beauty look that brought out the best of all skin types.
10 am, 888 Broadway, New York. The presentation just started.
Recreate our 5-Step NYFW Skin Prep at Home
All seven models at the Rentrayage NYFW presentation were skin prepped following the below steps. You can get the same radiant glow by trying this routine:
1. Use the Antioxidant Hydrating Toning Essence to hydrate your skin
2. Apply the Peony Hyaluronic Brightening Serum to soothe your skin tone
3. Use the Miracle Glow Oil to make your skin plump 
4. Finish with the Water Glow Moisturizer for a long-lasting hydration and use the Butterfly Gua Sha for a gentle face massage
5. Additionally, apply a thin layer of the Hydro-Rescue Repairing Night Mask to lock in moisture
Unleashing the Power of Traditional Chinese Medicine through Vegan and Sustainable Solutions 
At the heart of Pretti5's skincare philosophy lies a harmonious fusion of science and the purest natural ingredients, creating a holistic solution that redefines beauty through sustainability. We designed a range of products and initiatives to minimize environmental impact while delivering exceptional skincare results.
Vegan Beauty with Ecocert-certified Snow Mushroom
We incorporate Snow Mushroom in our solutions which is considered as the vegan cousin of hyaluronic acid. This ingredient not only rivals the efficacy of hyaluronic acid but is also Ecocert*-certified, plant-based and all natural ensuring adherence to stringent environmental and quality standards. 
Snow Mushroom has been used for facial care since ancient times in Eastern culture,  famously known to be the favorite of imperial Concubine Yang Kuei-fei who was considered to be the most beautiful woman in Chinese history.
100% Plant-Based Ingredients
Pretti5 sources its ingredients responsibly, utilizing 100% plant-based alternatives. Notably, we replaced traditional shark liver-derived Squalane with an olive-derived variant, contributing to marine conservation.
Sustainable Packaging and Ethical Travel
We extended our commitment to sustainability through thoughtfully sourced packaging materials. FSC-certified paper mailer boxes, recyclable plastic bottles, and the use of biodegradable biomass materials reflect our dedication to responsible consumption and environmental stewardship. For frequent travelers, we offer vegan and non-toxic travel pouches that are not only eco-conscious but also stylish.
Personalized Skincare
We understand that every skin is unique. Factors such as genetics, lifestyle, environment, and even daily stressors can impact your skin's health and appearance. Our Peony Hyaluronic Brightening Serum offers personalized skincare solutions by highlighting peony flower benefits for skin - another ingredient in traditional chinese medicine that combats multiple skincare concerns. It's a carefully crafted regimen that includes toning, brightening and hydration treatments, all designed to work synergistically for optimal results.
Pretti5 Founder Dorothy Chau with Rentrayage Founder Erin Beatty